Spirit - Grade Appaloosa
Appaloosa sire x Appaloosa dam
"SPIRIT"
1995 Chestnut - Grade Appaloosa Mare
ApHC Stallion x Appaloosa Mare
"Spirit" is a special mare, who came to us in the fall of 1995, she was going to be put down, due to her being born blind. We crossed her with our 1st stallion, "Maraschino Cherry" in 1997. In April 1998, she gave us a beautiful Chestnut filly with blaze, blanket and prefectly normal eyes. We named this filly, "Angel" and she became my back up riding horse. Since then "Spirit" has produced 5 - 100% color babies from "Maraschino Cherry", 2 colored fillies from "Obsessed To Impress" & 1 Black filly w/blanket by Stormn Too The Topp.
"Peppy Sans Lena Bar"

1996 Bay AQHA MARE

Sire: Peppy Bev - AQHA

Dam: Goldie Jimbar Bill - AQHA

"Lena" came to us from a friend, in which she has been mainly a pasture pet for many a year. She comes from some great cow horse breeding; Peppy San, Doc Bar, Jim Bar Bill, Leo, Poco Bueno, Peppy Buck, Wimp P-1, etc. .

Bred to KC's Finderskeepers - ApHC stallion for 2016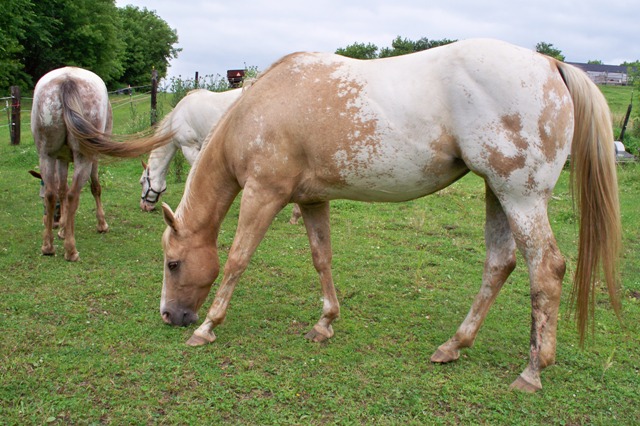 "J MAKE A GIGI"
1997 Palomino Snowcap ApHC Mare
Sire: Star J - ApHC

Dam: Mighty Sandy GG - ApHC
"Star J" - ROM earner, Multiple State Champion, National Top 10 in Halter;
ROM earner, Multiple State Champion, National Top 5 in Western Pleasure;
Sire of Halter / Pleasure / Futurity Winners / World & Res. National Champions
"Mighty Sandy GG" - Point earner in five events, Producer of point earners, money winners, and World Qualifiers, 2x grandaughter of Hall of Fame stallion Mighty Bright.
Super bred mare with a great mind. She was shown as a young mare in Halter and Futurites, before a severe laceration ended her show career. She still makes a great Trail Horse for anyone to ride.
2011 Bay filly w/spots by Stormn Too The Topp

2013 Buckskin Snowcap by KC's Finderskeepers

2014 Buckskin Colt by A Dynamic Invitation
Bred to Dynamic Invitation - son of Invitation Only for 2016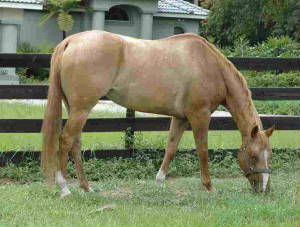 LADY SERENGETI
1998 DUN ApHC MARE
Sire: The Upper Hand - ApHC
Dam: The Lady Goer - ApHC
The Upper Hand had correct and balanced conformation, versatility, athletic ability, disposition, color and pretty. The well known red dun stallion is an Appaloosa Club Champion who has earned a Superior in Halter with additional points in Western Pleasure, Hunter Under Saddle and Reining. He is a Silver Medallion Producer with 9 get with 12 Medallions, 2 Appaloosa Club Champions and 1 Appaloosa Versatility Champion. The Upper Hand is 15.3 hands
The Lady Goer produced 17 registered foals, including eight halter point earners that earned 418.5 halter points, five non-pro point earners that earned 52 points, six register of merit earners, one superior achievement winner and two bronze medallion winners. Some of her most notable foals include World champion and national high-point stallion The Syndicator; World champion broodmare Miss Auctioneer; and reserve national high-point 2-year-old mare Goer's Legacy.
"Lady Serengeti" has produced 2 beautifully colored colts by AQHA stallion - "A Chance For Romance". "Lady" earned points in Hunter In Hand when shown. She is an elegant moving and looking mare.
Bred to "A Dynamic Invitation" for 2016
undefined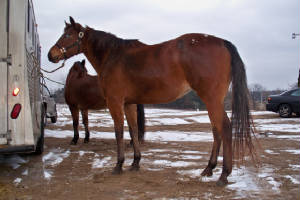 undefined
"PURE POTENTIAL"
1999 Bay ApHC Mare
Sire: Potential Investment - AQHA
Leading sire in today's industry...siring AQHA World Champions; Reserve World Champions; Superior Performance; AQHA Champions; Quarter Horse Congress Champions & Reserve Champions; ROM Performance Offspring, Pleasure Money-Earners, and Halter & Performance Point Earners.
Dam: Zippos Shirley - ApHC
THANK YOU - Jean Phillip for allowing us the chance to aquire a World Champion Bred mare.
Western Pleasure folks check this mare out.
"Potential Investment" stands at Steve Heckaman Quarter Horses. He is an own son of Principle Investment.
Bloodlines of Hotrodders Jet Set, Tiger Leo, The Big Investment, The Invester, etc.
"Zippos Shirley" is an own daughter of the great "Zippo Pine Bar". Need I say more.
Producer of the following ApHC Horses
2004 Bay ApHC Gelding - Ive Got Potential - ApHC Point Earner
2005 ApHC Mare - Impulsive Sass
2006 ApHC Gelding - Pure Investment
2007 ApHC Mare - Potential Pay Off
2012 Bay ApHC Colt - Purely KC
2014 Bay ApHC Filly - Rosie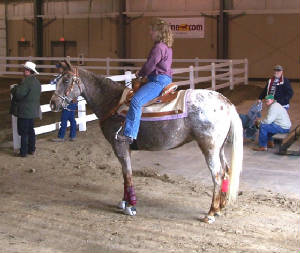 "M.C.'s Angel"
1998 Blanketed Appaloosa Mare
Sire: Maraschino Cherry - ApHC
Dam: Spirit - Appaloosa Mare
"Angel" is the 1st foal, born at T-n-C Appaloosas. She has been shown in Halter, Lungeline, & Speed Classes. Used for all around trail, road, and parade horse, she has even, proven herself with ponying colts.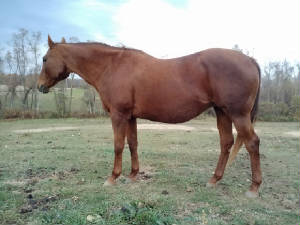 INDULGE IN GOLD
2000 AQHA SORREL MARE
Sire: Zippo's Old Gold - AQHA
Dam: She's No Accident - AQHA
Own daughter of Zippos Old Gold - AQHA WP stallion. Lexi is a producer of an ROM, multiple futurity winner, NSBA earner of $5,000.
Bred to A Dynamic Invitation for 2016
Shannon's Spicey Lady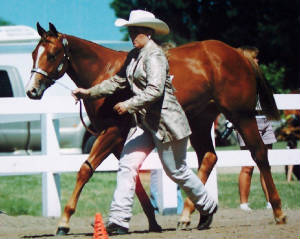 Obsessed To Impress x Shannon's Shadow
2x ApHC HALTER "WORLD QUALIFIER"
"SHANNON'S SPICEY LADY"
2006 ApHC DUN Mare
Sire: Obsessed To Impress - ApHC
Dam: Shannon's Shadow - ApHC
"Spice" was my own creation with using double "Prince Shannon" bloodlines. I loved her dam's mentality and big heart to please, her sire is also of the same mind.
Shown in Halter as a weanling, yearling & 2 Yr. old. Winning numerous year end awards in Michigan. Qualified for the ApHC Worlds in 2007 & 2008.