"ROCKS SUNNY LASS"
1994 ApHC CHESTNUT MARE
Sire: Rocky Topp - ApHC
Dam: Big Sunday Whammy - AQHA
We Lost This Super Mare to Complications of Colic on 02/12/2011
Foals Produced
2007 Chestnut Few Spot Filly by "VS Wills Reward"
2008 Bay Colt w/spots on hip by "Stormn Too The Topp"
2009 Few Spot Colt by "Maraschino Cherry".
2010 Chestnut Filly w/characteristics by "Two Drinks Ya'll".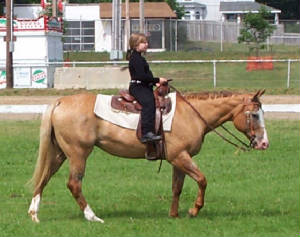 "SHANNON'S SHADOW"
1984 Red Dun - ApHC
Sire: Prince Shannon - ApHC
Dam: Barretta Bright - ApHC
"Prince Shannon", out of "Barretta Bright", both were highly respected Shedak Ranch bred and raised horses. "Shannon's Shadow" aka "Piggy" has produced 2 very nice foals for us.
In 2004, she produced a Grulla Colt by "Stormn' Too The Topp", this colt is in New Mexico being used as a trail mount and life time friend.
In 2006, "Piggy" produced a super nice Halter filly - "Shannon's Spicey Lady", this filly has done well on the ApHC circuit and qualified for the World's Show as a Yearling & 2 Yr. Old .
DECEASED SUMMER OF 2012.
DECEASED SEPT. 11, 2009 ____________________________________________
"MARASCHINO CHERRY"
1994 ApHC/CRHA Chestnut Leopard Stallion
Sire: Carteego Dam: Indian Cherry
"Cherry" has produced a variety of foals for us and others over the years.
I have a daughter of "Cherry" who is running consistant 2-D & 3-D times in Barrels. Other offspring have gone on to be western pleasure, dressage, trail & parade mounts.
Sire
Carteego - ApHC
Sire
Cartago - ApHC
Sire
Go Bay Go - ApHC
Dam
Go Bobbie Go - ApHC
Dam
Ima Teeka Too - ApHC
Sire
Chief Chelsea - ApHC
Dam
Paps Tonka - AQHA
Dam
Indian Cherry - ApHC
Sire
Streaky Bar - ApHC
Sire
Brays Little Bar - ApHC
Dam
Little Streak - ApHC
Dam
Terala - JC
Sire
Herculis - TB
Dam
Telaka - TB
Nov. 5, 2008 - 14 Yrs. Old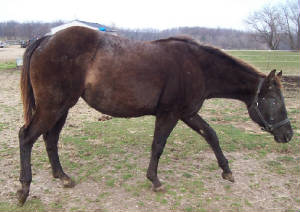 "SHANNON'S POCO IMAGE"
2002 Black ApHC Mare
Sire: Poco To The Max - AQHA Dam: Shannon's Shadow - ApHC
"Peppy" was laid to rest on 12/28/08, due to unknown complications.